This is a translation of the report on the performances from a variety of artists' anime song live, "LisAni!LIVE L.A." from the LisAni! website.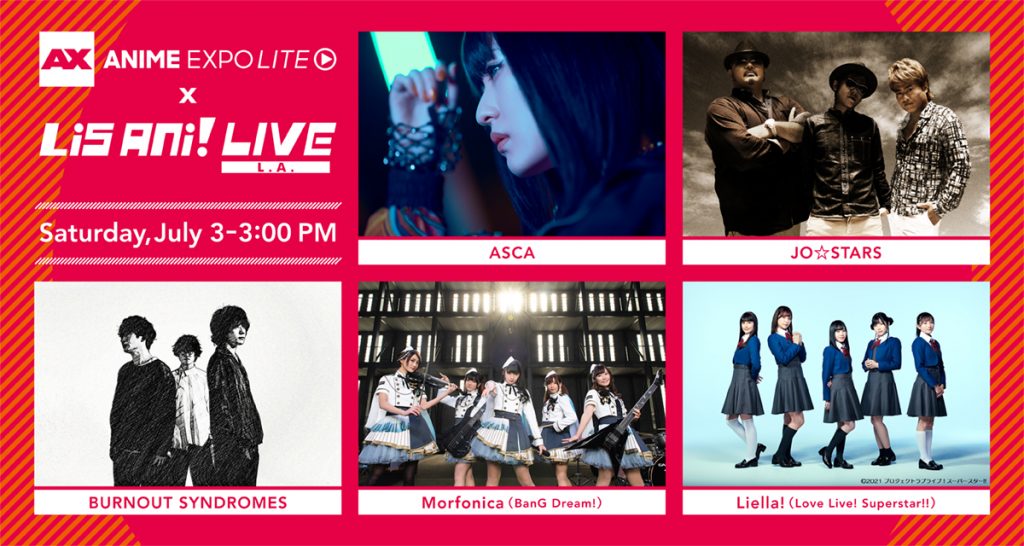 The largest anime event in North America, "Anime Expo", attracts many anime fans, not only from the United States but from all over the world. Due to the influence of the COVID-19 pandemic, it was held as an online event as "Anime Expo Lite" last year. As a collaboration event with LisAni! "LisAni! LIVE L.A." was held, using charismatic performances to deliver anime music to America and the rest of the globe. Following last year, the collaboration will continue and be held again this year as "ANIME EXPO LITE 2021 x Lis Ani! LIVE L.A.". Let us deliver an enthusiastic stage brought to you by globally popular anime works and artists.
Liella! (Love Live! Superstar!!)
The artist to start off "LisAni! LIVE L.A." was a group from an upcoming TV anime series, "Love Live! Superstar!!" and its five-member school idol group, Liella! This group consisting of Sayuri Date (as Kanon Shibuya), Liyuu (as Keke Tang), Nako Misaki (as Chisato Arashi), Naomi Payton (as Sumire Heanna), and Nagisa Aoyama (as Ren Hazuki) recently debuted in April with their single "The Beginning Is Your Sky". The stage was unveiled at a release event in May, making this one of the freshest groups in this year's lineup. Liella!'s stage starts with "The Beginning Is Your Sky". The five members perform with uplifting energy, truly representing "The Beginning". Starting with this song, Liella! carries the same positive, pop sound as the rest of the Love Live! Groups, yet also carrying a unique, stylish impression, emphasizing the beginning of a new generation. During the performance, the girls expressed their individuality through their dancing and singing and demonstrated their high potential in the chorus through their synchronized formations. Furthermore, with the familiar Love Live! staging and the MV projected behind the stage, the girls wonderfully synchronized movements with their animated counterparts, clearly exhibiting their skills.
After trying to challenge MCing in English, the girls continued their performance with "Dancing Heart La-Pa-Pa-Pa!", followed by "My Symphony", a melodious song that highlights the girls' vocal talents. Liella! then closed their inaugural international show with a bouncy performance of "Dreaming Energy."
<Liella! SETLIST>
M01 The Beginning Is Your Sky
M02 Dancing Heart La-Pa-Pa-Pa!
M03 My Symphony
M04 Dreaming Energy
JO☆STARS
Next is JO☆STARS' performance, a unit of talented vocalists in charge of the main theme of "JoJo's Bizarre Adventure", a popular anime series spread across the globe along with its original comics. The stage opens with part 1, "Phantom Blood" OP theme, "Sono Chi No Sadame". Hiroaki TOMMY Tominaga's powerful vocals invites the audience to the world of JoJo at once.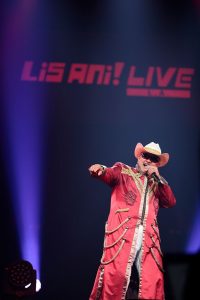 After TOMMY's heated performance, part 2 "Battle Tendency" OP theme, "BLOODY STREAM", is performed by Coda. With a stylish sound, Coda's mysterious and cool vocals clearly ring.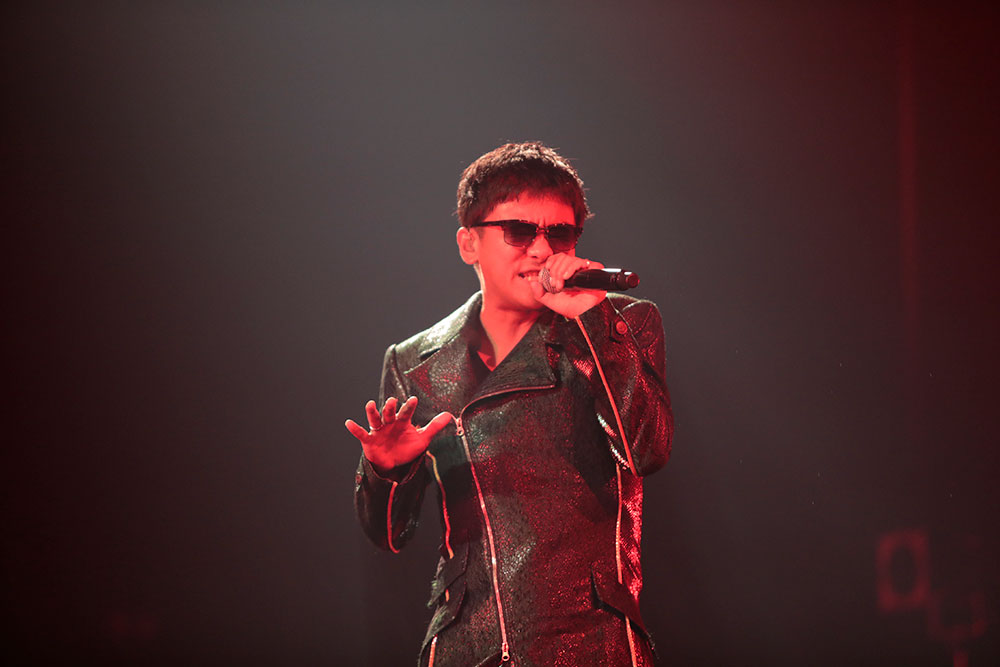 Next, the stage's atmosphere completely changes again with part 3 "Stardust Crusaders"OP, "STAND PROUD"by Jin Hashimoto. Almost with a beat fast as heavy metal, Hashimoto's powerful shout echoed throughout the stage.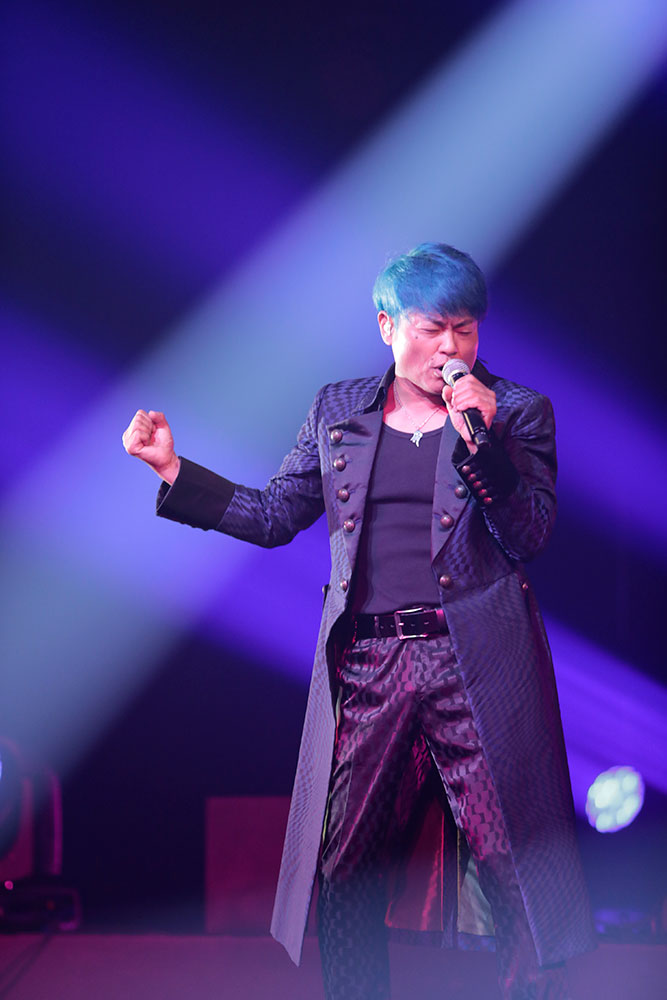 After, TOMMY, Coda, and Hashimoto gathered to form JO☆STARS to perform part 3 "Stardust Crusaders" Egypt Arc's OP theme, "JoJo Sono Chi no Kioku ~end of THE WORLD~". With a mysterious opening in which the three's vocals suspiciously intertwine, the song develops into a complicated fierce beat, showing a thrilling mic relay.
The three wonderfully perform solo, making it so that when they combine, their destructive power dramatically increases, and towards the end of the chorus their "Oraoraoraora!" rush into your ears with intense pressure like Star Platinum. Although the previous performances of the famous songs created specifically for "JoJo" were fantastic, Coda returned to the stage at the end. A delightful surprise for overseas fans, Coda performed the OP theme of "Fighting Gold" of part 5 "Golden Wind" in English.
<JO☆STARS SETLIST>
M01 JoJo ~Sono Chi no Sadame~/Hiroaki TOMMY Tominaga
M02 BLOODY STREAM/Coda
M03 STAND PROUD/Jin Hashimoto
M04 JoJo Sono Chi no Kioku~end of THE WORLD~/JO☆STARS
M05 Fighting Gold – English Ver.-/Coda
ASCA
Halfway through"LisAni!LIVE L.A.", the young talented singer, ASCA, appears on stage. In 2017, she made her debut with LisAni!'s CD "RUST", and made a major debut with the ED theme "KOE"of the TV anime "Fate/Apocrypha" and has since been involved with several other anime works.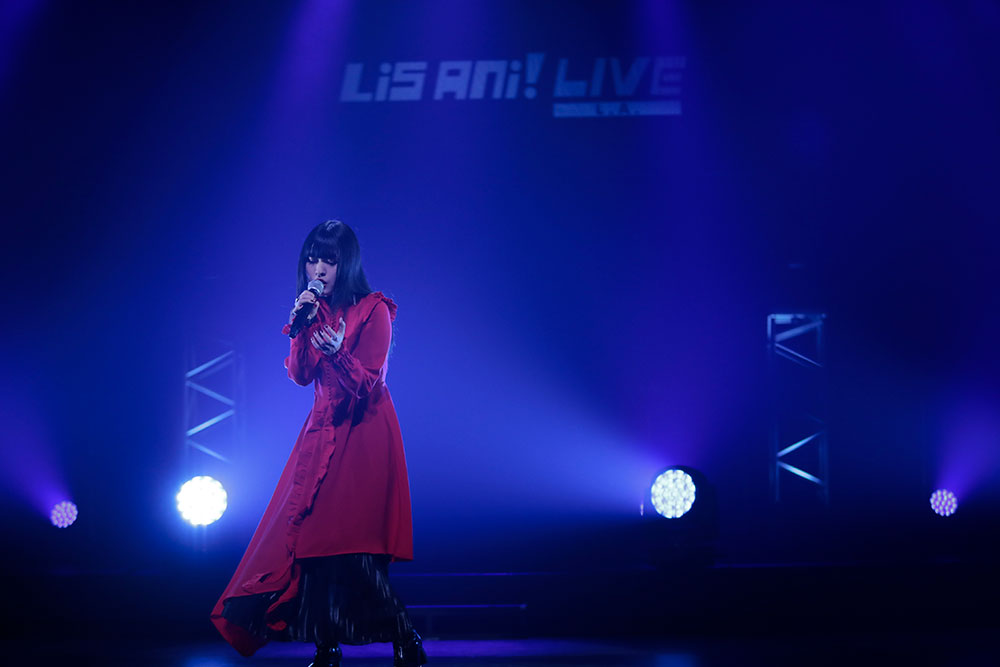 The stage vigorously started with the OP theme "CHAIN" of the TV anime "Darwin's Game" released last year. ASCA's performance lets you hear powerful vocals from the beginning with the upper melodious sound unique to her songs. After MCing and saying "I want to deliver this song with my all," she performed "Carpe Diem", her latest single. "Carpe Diem" is the ED theme of "The World Ends with You", a TV animation of a popular game, and the song has a dark rock tune with impressive guitar tunes. There, you can also hear ASCA's hot vocals and feel the rising heat of the stage.
When you think about it, "Hibari" is a slower ballad with an impressive melody as the ED theme of "Lord El-Melloi II Case Files: Rail Zeppelin Grace Note" in which ASCA fascinates the audience with her gentle singing. Then, with the OP theme "REGISTER"of the TV anime "Sword Art Online: Alicization", she returns to an aggressive sound, creating a thrilling performance by demonstrating her expressive singing voice. Lastly, even more harshly, ASCA proceeds to the OP theme "Howling" of the TV anime "The Irregular at magic High School: Visitor Arc". In the "Wow-wow" of the chorus, the energy from the stage was so overwhelming, it was almost as if the audience's singalong could be heard in the empty venue.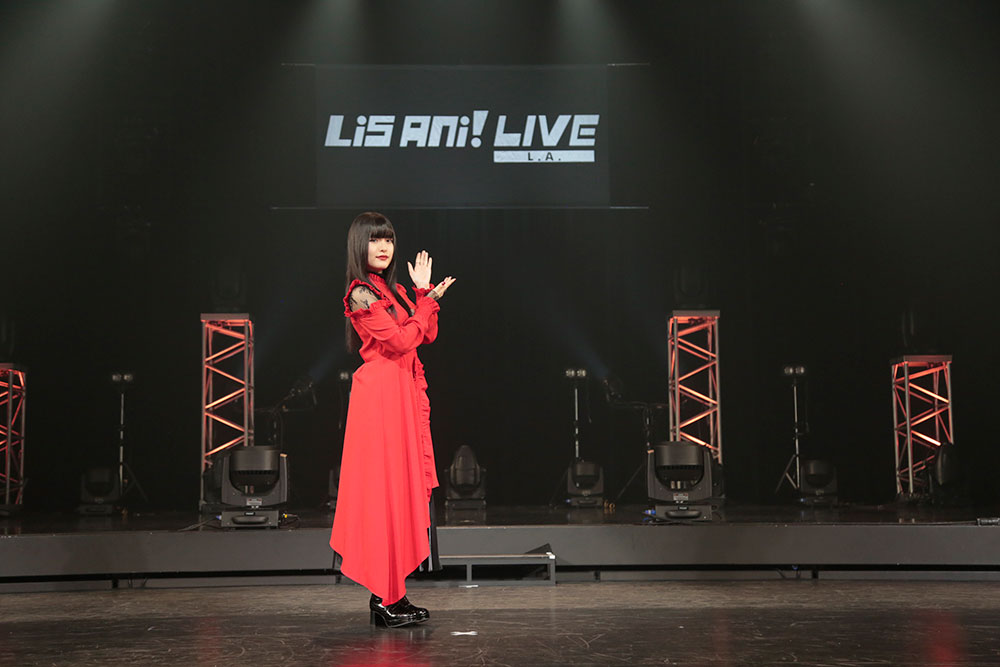 <ASCA SETLIST>
01 CHAIN
02 Carpe Diem
03 Hibari
04 RESISTER
05 Howling
Morfonica (BanG Dream)
Next up is Morfonica, the newest real band born from the next-generation girls' band project, "BanG Dream! (Bandori!)". Vocalist Amane Shindo (as Mashiro Kurata), guitarist Hina Suguta (as Toko Kirigaya), bassist Yuka Nishio (as Nanami Hiromachi), drummer Mika (as Futaba Tsukushi), and violinist Ayasa (as Rui Yashio) make up the fresh five-member group who participated in the smartphone game "Bandori! Girls Band Party!". The skill of the group is certain, and the "flame of hope" that begins with Ayasa's violin phrase lets you hear a melodious and powerful band sound.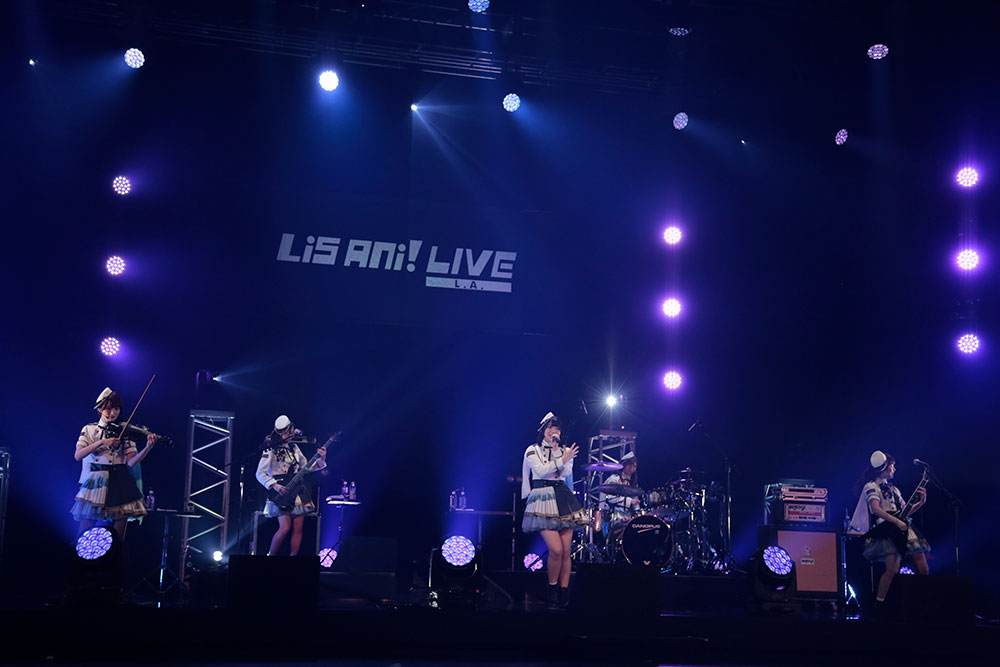 With Mika's enthusiastic drumming, bass that supports Nishio's rhythm, Naoda's sharp guitar, violin that incites Ayasa's band sound, and Shindo's innocent charming vocals, both as individuals and as a band, they have a unique sound.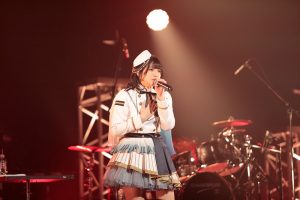 Next, "Daylight" also impresses the audience with its unique and well-balanced sound. Although the band has only been on stage for about a year, the girls' presence is outstanding. After showing off her English MC skills, Shindo says, "I want you to see the view you want to see on this stage," and went to play "Prelude to Gold". This song, which has a refreshing sound and a powerful message turned out a wonderful performance. And finally, to the last song, "Bloom Bloom". In this rocking song, the band's voltage is as if it has reached its peak. Morfonica's career as a new band with a unique sound has just begun, but their performances were wonderful and it is exciting to see what they will do in the future.
<Morfonica SETLIST>
01 flame of hope
02 Daylight -デイライト-
03 Prelude to Gold
04 Bloom Bloom
BURNOUT SYNDROMES
The band that wrapped up this year's "LisAni! LIVE L.A." included Kazuumi Kumagai (g, vo), Taiyu Ishikawa (b, cho), and Takuya Hirose's (d, cho) band, BURNOUT SYNDROMES, a rock band from Osaka. With a band sound described as "Youth Literature Rock", they have gained tremendous support in live scenes including domestic music festivals and have been in charge of numerous anime works, boosting their popularity overseas. On the stage of "LisAni! LiIVE"that they have longed to perform on, the first part of their performance was "FLY HIGH", a major debut single appointed as the OP theme of the second season of the hit TV anime "Haikyu!!"The thick chorus and the solid band sound with a sense of speed highlights the skills of the band.
Immediately after the first song, the impressive chorus of the OP theme, "Hikariare"of the TV anime "Haikyu!! Karasuno High School vs Shiratorizawa Academy" can be heard. As soon as BURNOUT SYNDROMES' appearance on this stage was decided, Kumagai specially arranged their series of "Haikyu!!" songs, peaking the voltage on the stage! Every part of the performance, the magnificent chorus that sings "Hikariare", is wonderful. After Kumagai ends with, "LisAni! Live, Hikariare!", the band continues to the OP theme "Phoenix" of the TV anime "Haikyu!! TO THE TOP". After an enthusiastic band performance to the catchy song, they move on to the next song, OP theme "BLIZZARD" from the TV anime "Those Snow White Notes". It is a song with a Japanese style, where you can hear the melody of the shamisen and the voice of Nobunaga Shimazaki, who plays the main character, Yuki Sawamura. And finally, "Good Morning World!" from the TV anime "Dr. STONE", BURNOUT SYNDROMES deliver an impactful, powerful, exhilarating, and above all, a shocking performance to close off with.
<BURNOUT SYNDROMES SETLIST>
01 FLY HIGH!!
02 Hikariare
03 PHOENIX
04 BLIZZARD
05 Good Morning World!
The second collaboration event with "Anime Expo Lite", "LisAni! LIVE L.A." proved to be another successful stage with an energetic atmosphere from the beginning to the end by the wonderful artists. The lineup included a wide variety of artists, ranging from young people who have only recently debuted, to veterans, and the different genres of anime each artist represented with their music varied significantly as well, making this stage, truly diverse. With these live performances, we hope we could amplify the global enthusiasm for anime and anime music. Also, we hope that a future will be realized in which wonderful music will be played in front of the audience of "Anime Expo".
TEXT BY Sumikawa Ryuichi PHOTOGRAPHY BY Yamamoto Mao
Event Information: ANIME EXPO LITE 2021 × LisAni!LIVE L.A.
LA Local Time 7/3(Sat.)15:00~17:30
Streamed as Online Streaming Event"Anime Expo Lite 2021"
Performers: ASCA/BURNOUT SYNDROMES/JO☆STARS//Liella!(Love Live! Superstar!!)/ Morfonica(BanG Dream!)
VOD Archive: Available until 7/16(Fri.)at 11:55 pm
Tickets: Available to purchase until 7/16(Fri.)at 12:00 pm
Get Tickets
How to buy tickets
"Anime Expo Lite 2021"Official site
---
Anime Expo Lite 2021 will stream via Tixr July 3-4, with additional content available via VOD July 5-16. All proceeds will benefit the commUNITY Action Fund by Hate Is A Virus.
Register Today
Download our mobile app to stay up-to-date on announcements!



The post Concert Report: LisAni! brings the heat to Anime Expo Lite and the world! appeared first on Anime Expo.